Manufactured Medical Supply Shortages by a Corrupt Purchasing System Create Dangerous Conditions for Medical Staff and Patients
Austin Roe
The media and the government have created a Covid-19 fear panic, where even sniffle or slight body ache is feared to be Covid-19. This has translated into massive unnecessary ER visits, and with the over-hyped fear of symptomless Covid-19, enormous shortages of Covid-19 test kits have resulted. This has also resulted in massive shortages with other medical supplies. Just 3 days ago this question was posted on the Reddit group r/nursing:
Are y'all having scary supply shortages?

We have been low on incentive spirometers for a couple months now and have to submit a request every time we need one. But now our supply shortages are getting absolutely ridiculous.

The announcement this morning in our huddle was that we are critically short on saline flushes, lancets, and Foley catheters. I had to run around all morning to get a flush so I could give a patient IV meds and was told that if I use a flush I have to draw it up into 3ml syringes so I can reuse the flush on different patients. We all have to bow down to the mother baby floor to get lancets because they are the only ones left who have any at all.

This is getting dangerous! Absolutely not sustainable and they can't even tell us when we will have our supplies replenished.
Some of the other comments to this post are:
"We're short on everything from blood collection tubes, urine specimen cups, specific size crutches, different sterile water for med reconstitution, IV start kits. Were a level 2 trauma center and we don't have crutches if your 6' and above!?!?? It's like we're living in this weird war time rationing but no ones talking about it??? There's always something new that's short and were suddenly changing our protocols for."

"I'm at a level one trauma center. We're completely out of crutches in any size, no canes, no tubing for our level one rapid infuser (We're using some weird replacement that doesn't work well), low atriums, low COVID/flu tests, low lab tubes, syringes in various sizes are out, I&D kits, and numerous other things. It's awful"

"yeah people get mad when we say we're not gonna swab you just because xyz. The public really has this perception that we have infinite resources and can do everything for everyone always. It's so much worse now! 2 years in and all the same problems that existed at the beginning exist now. I'm surprised we're not back to conserving masks."

"I'm so tired of people coming to the ED asking for COVID tests with no symptoms or coming in with minimal symptoms. What do you expect us to do?"

"It's beyond logistics. There are shortages of the pellets used to make plastics and other raw material constraints. Best practices were to run supply chains lean because inventory costs money. Now the entire economy is upended, all the balances are off and this is what happens."

"We have 3 units of blood……in our entire hospital. Watched a guy bleed to death from nasty diverticular bleed cuz I gave him 2 units and then blood bank said we're completely out of blood at that time so just hit him with LR to keep BP up and hoped he stopped bleeding before he was overdiluted. He did not stop bleeding and he coded cuz we ran out of blood."

"EMS here
1- linen. Have sheets but towels and blankets are short. Pisses patients off and makes it harder to clean
2- flushes. We were told to ration them last week and cease "routine" access for non emergent pts. Also fluid bags.
3- epi. Short everywhere. Rationing on codes and extending exp dates
4- oxygen. Yeah.
5- TXA is short too. God help you if you're a major trauma cause the hospitals are dry on blood, esp O neg
6- cleaning supplies like wipes and sprays. We have barely enough but have to beg and plead when restocking (or steal from hospitals)"

"I wish hospitals would leak this information, documents, video, pictures, inventory information… I would personally be okay with my confidentiality/HIPAA rights being violated if it woke people up that our hospitals are on the verge of collapse due to supply shortage, understaffing, and a whole slew of other issues. Medical personnel receiving death threats pisses me off. The first RN or MD who gets murdered by some crazy Q is a story that will likely be swept under the rug by the media."
Matt Stoller made some interest points in his article "The Corrupt System Behind Covid Medical Shortages" about the medical supply chain arrangements going back 30 years, which could play a serious role in this massive supply shortages.
Doctors told me that they often have to switch from drugs they understand to lesser known drugs because of shortages, which can lead to medical errors, but that this situation isn't a result of Covid. In fact the FDA has had a drug shortage webpage for years.

Here's one reader making the point.

New shortages cropping up all the time in healthcare. I first noticed it around 2017-2018 after a storm affected production of saline in Puerto Rico. This limited supplies of fluid for intravenous infusion. Ever since then, especially after the Covid 19 pandemic hit, an unpredictable shortage will hit the hospital where I work. Right now, there's a lidocaine shortage. Before that, it was the gloves we would normally use, which were replaced with whatever the hospital could get it's hands on, the worst being flimsy ones from Malaysia that clearly hadn't gone through quality control because they would stick together in the box and rip when you tried to put them on, wasting half the box. Before that it was opioid pain medication, medications to sedate and/or paralyze patients on ventilators, N95 masks, and respirators. It always seems as if you solve one issue, and another crops up to replace it.

Shortages of medicine and personal protective equipment, while understandable the beginning of the pandemic, make little sense eighteen months later. Early last year, large numbers of domestic firms that produce textiles retooled to produce PPE, material like meltblown for masks. We now have an industry that can make a lot of different medical supplies, though clearly not everything. But what I'm told is that the domestic supply chain, while now impressive, simply cannot sell into domestic hospitals. And that means these new firms are going to stop investing and shut down what they are producing. This is a profoundly weird situation. If there are shortages, why can't hospitals buy from new producers?

The story always seems to come back to changes in hospital buying that took place thirty years ago, among a small group of middlemen known as Group Purchasing Organizations, or GPOs.
Stoller explains that these medical supply issues are not a new problem, but have been completely exacerbated by the Covid-19 pandemic and the social and political fear spread globally.
Prior to the legalization of kickbacks, GPOs were basically just catalogues of supplies, matching hospitals with suppliers and serving a basic market-making function. Soon that changed. GPOs, which had been financed by hospital members, were now financed by the suppliers they were supposed to be negotiating with for lower prices. As Phillip Zweig wrote:

After the GPO safe harbor rules were implemented in 1991, GPOs no longer cared about saving hospitals money. Their goal now was to maximize fee (a.k.a kickback) revenue. And because GPO fees are based on a percentage of sales volume, the higher the price of hospital supplies, the more fees GPOs collect. These perverse incentives gave rise to a system in which vendors compete for exclusive GPO contracts based not on who can supply the best product at the best price, but on who can pay the highest fees. In effect, vendors buy market share from the GPOs for exclusive access to their member hospitals. The more they pay, the more market share they receive. As a result, many vendors favored by GPOs enjoy monopoly status.

Today, corruption in these markets is so extreme that hospital executives themselves are often offered a cut of the fees from GPOs. In 2013, one analyst said that "many hospital executives who are part of the Premier alliance have learned to rely on that share back as an integral part of their annual compensation." In other words, hospitals are buying supplies at inflated prices, and those suppliers use some of that extra money in direct bribes to hospital executives.
Stoller goes on answering the question 'Why Can't We Make Masks?'
In 2003, according to mask production executive Mike Bowen, America made 90% of its own masks and respirators. By 2005, America imported 90% of its masks and respirators. In just two short years, the entire supply chain moved abroad. Why did this happen? Bowen laid the blame at the feet of GPOs.

GPOs were blocking new entrants, like makers of innovative devices like retractible syringes and infant-ready pulse oximeters, because the firms couldn't pay their administrative fees. (Several firms, like that which made retractible syringes, eventually won an antitrust suit against two GPOs, syringe monopolist BD, and Tyco.) What was happening is that Bowen, a domestic producer of masks, simply couldn't get a contract with GPOs. GPOs require a national sales force, including clinicians to get into the sales channel, as opposed to how it used to work, which was selling hospital by hospital. Only large national firms can compete with such requirements.

Like Amazon does to small vendors and third party sellers, GPOs pressure small producers to give them higher and higher administrative fees, ultimately destroying their margins and causing them to either offshore production or use substandard factories that would force a recall or factory shutdown. (Indeed, one reason for the shortage of tubes used for critical blood clot testing is a recall by one of the major producers last year.) GPOs also inflates cost: when a small competitor was finally allowed to compete with Tyco (now Covidian) over oximeters, prices dropped by 30%. Some experts put GPO-hospital-supplier cartel cost at $100 billion annually.

Along with higher cost and less innovation, there is also the pooling of production and risk. As Phillip L. Zweig and Frederick C. Blum noted in 2018, one reason the U.S. has been importing saline solution – aka salt water – for years is because GPOs rely "almost exclusively on Baxter for these products." And Baxter not only didn't produce enough, causing shortages and thus reliance on imports, but also put its key plants in Puerto Rico, which was devastated by Hurricane Maria. The pooling of production led to pooling of risk.

In other words, the reason supply and demand isn't working in medical markets for devices, supplies and medicines is because the system is a giant cartel of hospitals, suppliers, and distributors, glued together with Group Purchasing Organizations who serve as the middlemen. They have set up a brittle and fragile system which doesn't respond to price or quality signals, and creates incentives for shortages.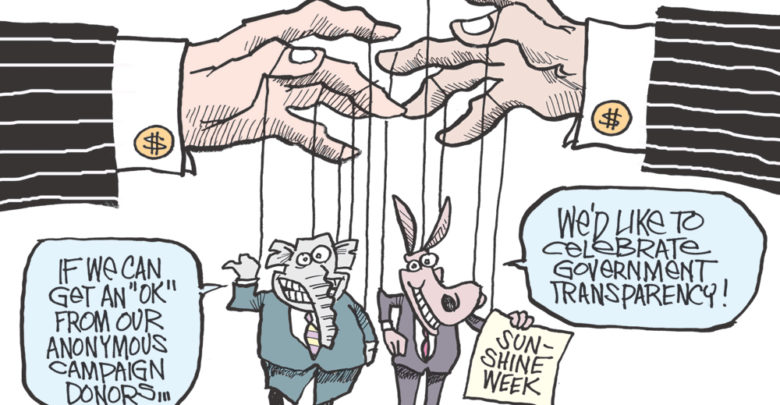 Behind the medical supply chains to hospitals is politics, of course. Stoller then concludes:
GPOs and hospitals couldn't do what they do without political power. So what happened with the Senate investigations? Ultimately, they petered out, blocked by powerful Senators like Chuck Schumer and regulators who never saw a kickback they couldn't get behind. These middlemen have bought up everyone in the industry. Here, for instance, is a comment to the FTC on the wonders of GPOs, funded by the industry and authored by among others former Obama FTC Chairman Jon Leibowitz.

More to the point, hospitals are political giants, intimidating politicians and generally using their medical authority as cover for these kinds of schemes. (You'll notice, for instance, that left-wing politicians often go after pharmaceutical firms for high prices, but rarely use that rhetoric against hospitals.)
Sadly, many hospital administrators are deep into the medical supply cartels which benefit from the shortages. In addition, this is not a Democrat or Republican corruption problem, it is a corporate and Congressional problem and all those benefiting from this corruption should be exposed.