The Elimination of the Covid-19 Control Group, and Unanswered Questions of Its Vaccines
Austin Roe
This article is not about all the conspiracy theories floating out there, and there are a few. The attempt of this article is to offer a pragmatic look at the medical and research reports out there on the Covid-19 vaccines, their ingredients, and their reported and observed side effects and uses. Major media used to be an honest watchdog who asked the hard questions in an effort to protect the public from government and private entities alike. Sadly, that is no longer the case. The efforts I have made to look further into these ingredients are something any honest reporter could have, should have done, but instead chose not to report or research. Many of the sources I have cited are publicly available research journals describing observed uses of the various ingredients in the most popular vaccines, along with their recorded side effects.
The reader of this article will have to draw their own conclusions as to the good or nefarious uses that could stem from chemical compounds of this nature being injected into a mass population, as with any other pharmaceutical products. As mentioned earlier by hope is to inform but not scare, however, there are too many questions with these Covid-19 vaccines that deserve answers, and much more research that needs to be done before drugs of this widespread use deserve full FDA approval.
To be clear, I am not anti-vaccine. I have had my share over the years like many people, however, these Covid-19 vaccines are like no other we have ever had in human history, both with its physiological integration into the human body as well as its bypassing of safety prodigals in modern medicine. This alone should give everyone pause as to its rush to get the entire world injected.
---
In the past 18 months the concept and method of Science has become completely unrecognizable. What began as a method for analyzing incoming data through trial and error has turned into a subjective government and media oracle, bent on shaping ideology without debate rather than advancing knowledge. We have seen the largest flip-flopping of a narrative in world history. From no masks to masks to no masks and back again. We have also seen vaccines show up on the scene, almost on cue in record time, right after a global pandemic comes out of nowhere. Then we have seen the "vaccines" be touted as a "lifesaver" and infallibly pitched as  "completely safe" despite very little if any animal or human testing & most certainly no long term testing. The usual safety concerns have been completely bypassed in a rush to get the shot in everyone's arm as fast as logistically possible. However, the mRNA vaccines are like no vaccine ever produced, ever.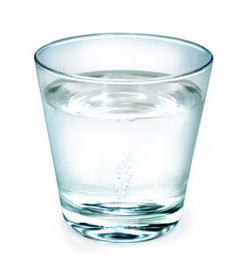 Picture if you will a government, TV, or movie personality giving you a shot glass with some unidentified liquid in it and they say "Drink it." Also add that the company that created the contents of the shot glass cannot be held responsible in any way if you have side effects up to and including death. "Everyone is drinking it and you should too," you hear from everyone while those same people say nothing about checking with your doctor or even really knowing what is in it. Instead, you are shamed, pressured, coerced, and told that you are the cause of all the pain in the world because you won't drink the shot. Add to that the increased bribery by government officials, the threats from your job, or your ability to attend community events. Its all this for vaccines that do not even stop the transmission of Covid-19. This is the equivalent of a social and political full court press. This is where Science and the vaccine has become less science and more a religion.
If this were an actual science experiment testing a new drug you would have roughly 2 groups, the group taking the drug and the group not taking the drug (the Control Group). Since the release of the new vaccines, or should I say the pharmacological horse race, we have seen a gradual yet ever increasing to the goal posts in vaccine distributions and acceptance. First it was front line healthcare workers, then the most at risk or minority groups, then children, and now even the healthy are very strongly encouraged to get the shot regardless of any apprehension they may have. Those with their own reasons for not getting the shot are completely ignored, pressured, and vilified. An allergic reaction to vaccines, religious reasons, or even having recovered from Covid-19 which gains the antibodies from Covid-19 are not good enough reasons to avoid getting the vaccine, not anymore. The foundation is already being set to create secondary class citizens based on vaccine status, but why for something that has no long term testing? Even the governments in many countries including the U.S. are aiming for a full 100% vaccination of its people. With a virus that has a survivability rate for most healthy people north of 99% and large dropping under reported death numbers, why the lockdowns and masks again?
If this truly was a massive widespread deathly pandemic we would have seen two things; bodies stacking up with funerals in high demand and politicians and famous personalities not ducking the mask mandates and the lockdowns. We would also see a strongly defended southern U.S. border deterring those positive for Covid-19 being stopped cold and turned away. We are seeing none of that. The inconsistency of actions by the most visible in our society has been blatantly obvious. They are not scared of this virus, unless they actually have more serious health issues. The science they claim to follow only supports that Covid-19 has become no worse than a bad cold or flu for most people. Those in those serious health conditions have always had the freedom to wear a mask if they wish, or stay home. Conditions in society are based on the healthy and not the most ill. When in history has this ever not been the case, especially with our advancements in modern medicine and health care?
Now back to our testing groups. The push for nationwide, mandatory, full vaccination is increasing in the U.S. and world-wide. If there is no Control Group there is no way to gauge effectiveness of any drug if everyone is taking the drug. Without a Control Group there is also no way to gauge how harmful the drug could be either. Without that comparative data to analyze, the scientific experiment is incomplete. So if ignoring healthy people, people recovered from Covid-19, or people concerned about the vaccines is not acceptable, but only full widespread vaccination is acceptable, is that science or something else? Some countries have already surpassed herd immunity and yet they are still pushing for full vaccination. According to the Media & the government's latest numbers the U.S. is close to reaching that same goal of herd immunity as well, when you take into account those who recovered from Covid-19 plus the vaccinated. So is this really about Covid-19 or something else?
---
Graphene Oxide & Hydrogels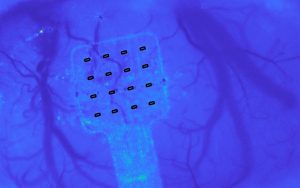 Over the past several years we have seen an undeniable increase in research on technological integration with humans. Some of those great advancements have been biometric readers, like the ability for our phones to be unlocked with our fingerprints or our faces. We have also caught some amazing stories of Elon Musk working on the connectivity of computers directly with the brain with an implanted microchip. There has also been advancing research in sub-dermal chips and inks that can connect to computers through radio waves and even light up to indicate different functions and information. One competitor to Musk's Neuralink is Inbrain Neuroelectronics out of Spain.
Inbrain Neuroelectronics spent the past eight years developing a graphene-based neurological implant. Aguilar mentioned that some forms of graphene are poisonous and the company spent the past years developing and patenting a manufacturing technic. Finally, it was able to come up with the form of graphene that it wants in the brain.
Interestingly, Inbrain's graphene is just one atom thick. According to the company's official website, it is among the strongest materials ever tested. The company said a graphene brain implant will last longer than a Neuralink implant.
At the forefront of this brain-machine technology is a "a two-dimensional sheet of carbon that is 1 atomic layer thick" called Graphene Oxide (GO). Graphene Oxide is "200 times stronger than steel by weight, 1,000 times lighter than paper, 98 percent transparent, conducts electricity better than any other known material at room temperature, can convert light at any wavelength into a current, and is made from carbon, the fourth most-abundant element in the universe."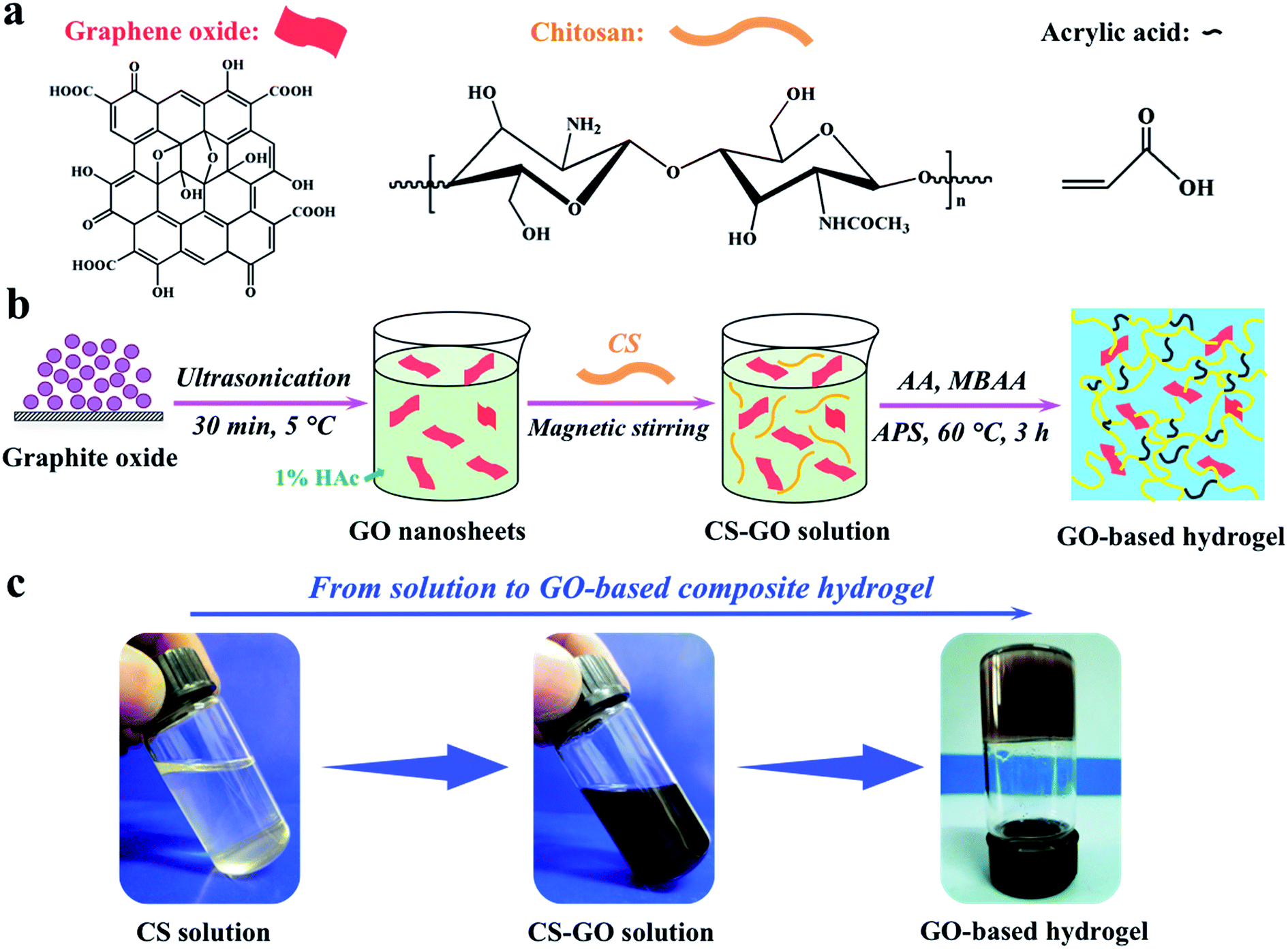 Graphene Oxide has been developed to work with hydrogels and have been incorporated into biomedical applications:
Graphene and graphene derivatives (e.g., graphene oxide (GO)) have been incorporated into hydrogels to improve the properties (e.g., mechanical strength) of conventional hydrogels and/or develop new functions (e.g., electrical conductivity and drug loading/delivery). Unique molecular interactions between graphene derivatives and various small or macromolecules enable the fabrication of various functional hydrogels appropriate for different biomedical applications.
Hydrogels, which are defined as water-swollen three-dimensional networks based on hydrophilic polymer chains and retains water constituted at least 20% of weight, are also another piece of the formula to advance direct brain-machine interfaces:
Professor Seongjun Park's research team and collaborators revealed a newly developed hydrogel-based flexible brain-machine interface. To study the structure of the brain or to identify and treat neurological diseases, it is crucial to develop an interface that can stimulate the brain and detect its signals in real time. However, existing neural interfaces are mechanically and chemically different from real brain tissue. This causes foreign body response and forms an insulating layer (glial scar) around the interface, which shortens its lifespan.

To solve this problem, the research team developed a 'brain-mimicking interface' by inserting a custom-made multifunctional fiber bundle into the hydrogel body. The device is composed not only of an optical fiber that controls specific nerve cells with light in order to perform optogenetic procedures, but it also has an electrode bundle to read brain signals and a microfluidic channel to deliver drugs to the brain.

The interface is easy to insert into the body when dry, as hydrogels become solid. But once in the body, the hydrogel will quickly absorb body fluids and resemble the properties of its surrounding tissues, thereby minimizing foreign body response.

The research team applied the device on animal models, and showed that it was possible to detect neural signals for up to six months, which is far beyond what had been previously recorded.
Why are the Covid-19 vaccines' boosters required every six months? (PDF) No other vaccines required such a quick variant updating, not even the flu.
Another use in which Graphene Oxide (GO) has been advancing is vaccine delivery. From the National Library of Medicine, "Recent progress of graphene oxide as a potential vaccine carrier and adjuvant:"
Vaccine is one of the most effective strategies for preventing and controlling infectious diseases and some noninfectious diseases, especially cancers. Adjuvants and carriers have been appropriately added to the vaccine formulation to improve the immunogenicity of the antigen and induce long-lasting immunity. However, there is an urgent need to develop new all-purpose adjuvants because some adjuvants approved for human use have limited functionality. Graphene oxide (GO), widely employed for the delivery of biomolecules, excels in loading and delivering antigen and shows the potentiality of activating the immune system. However, GO aggregates in biological liquid and induces cell death, and it also exhibits poor biosolubility and biocompatibility.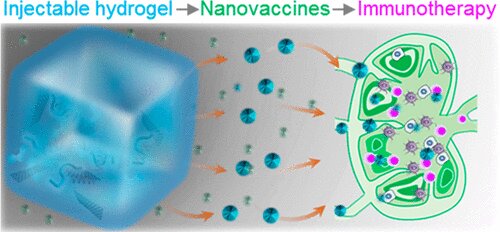 Because "mRNA is an unstable molecule that is quickly degraded by enzymes in the body," it needs to be encased in a injectable Graphene Oxide hydrogel. As stated in a document from Harvard Medical:
Hydrogels have also been used as a platform to support viral, nonviral and nanoparticle-based gene delivery systems. Encapsulating such gene delivery vectors inside hydrogels enables their controlled delivery at the desired site, preventing unwanted loss during the transit to the target site and allowing efficient localized gene therapy with reduced nonspecific spreading to other tissues. Thus, the hydrogel increases the local retention time of the vector at the target site, enhancing their chances of getting internalized by the tissues, which is currently a major limitation of nonviral nanoparticle-based delivery systems.  For example, it has been reported that alginate hydrogels, containing DNAPEI aggregates, can enhance DNA uptake depending on the stiffness of the gel.
As described by Nitin S. Satarkar, J. Zach Hilt from the Department of Chemical and Materials Engineering, University of Kentucky (PDF), hydrogels have the capability to create reactions remotely from outside the hydrogels:
Hydrogels can show swelling behavior depending on changes in the external environment. Some of the factors that can affect the swelling of responsive hydrogels include pH, ionic strength and temperature. Hydrogels can also be made to respond to diverse external stimuli, such as light, electric current, ultrasound, and the presence of a magnetic field or a particular molecule.
Pentagon scientists, Profusa, the Bill and Melinda Gate Foundation, and the U.S. Defense Advanced Research Projects Agency (DARPA) have joined together to develop an under the skin hydrogel biosensor microchip the size of a grain of rice that can detect Covid-19 in the blood of U.S. soldiers, among other things. Some of those other things are wirelessly connecting to a dialysis machine to test and filter the soldier's blood. From Veterans Today:
The apprehension is more than legitimate given that the study of the microchip carried out by the American Profusa Corporation of Silicon Valley, as revealed by the military specialist magazine Defense One in March 2020, is not a recently developed project but even dates back to the administration of Barack Obama and was carried out in collaboration with the University of California San Francisco in the same years in which North Carolina University, within its biosafety laboratories 3-4 in Chapel Hill, developed the chimeric superviruses based on the coronaviruses of the Chinese horseshoe bats in collaboration with scientists from the Wuhan Institute of Virology.
Defense One (PDF) describes the implant:
The sensor has two parts. One is a 3mm string of hydrogel, a material whose network of polymer chains is used in some contact lenses and other implants. Inserted under the skin with a syringe, the string includes a specially engineered molecule that sends a fluorescent signal outside of the body when the body begins to fight an infection. The other part is an electronic component attached to the skin. It sends light through the skin, detects the fluorescent signal and generates another signal that the wearer can send to a doctor, website, etc. It's like a blood lab on the skin that can pick up the body's response to illness before the presence of other symptoms, like coughing.
Graphene Oxide is also capable of creating a very small magnetic field, as described in a research report "Magnetic properties of graphite oxide and reduced graphene oxide" by S.K.Sarkara, K.K.Raulb, S.S.Pradhanb, S.Basuc, A.Nayak (PDF):
We have observed weak super paramagnetism and hysteresis in the samples of both GO and RGO due to presence of functionalized groups and other defects in the layered carbon structures. Other types of magnetic behaviors are also possible. This requires further investigation.
If this condition was cumulative based on concentration or the increased replication within the body, would that explain the very numerous reports of magnets sticking to patients' arms after being vaccinated?
In another report, once Graphene Oxide is injected into the blood it develops a measurable magnetic field. (PDF) The use of Graphene Oxide/Iron Oxide for the use of magnetic drug delivery is described in "Multifunctional graphene oxide/iron oxide nanoparticles for magnetic targeted drug delivery dual magnetic resonance/fluorescence imaging and cancer sensing." (PDF)
It is also worth noting that researchers in the International School for Advanced Studies (SISSA) in Italy, Catalan Institute of Nanoscience and Nanotechnology (ICN2) in Spain, Ribeirao Preto Medical School of the University of Sao Paulo in Brazil, and The University of Manchester in the UK (PDF), discovered the ability to block "unpleasant memories," as reported by Materials Today:
The researchers found that rats sensitized to the scent of a cat 'forgot' their fear response after injection with GO directly into the amygdala part of the brain. The researchers think that GO temporarily interferes with synaptic plasticity, impairing the formation of long-term adverse memories in response to a threat and reducing anxiety-related behaviors. Administration of GO could provide a means of preventing unwanted synaptic plasticity, blocking the reinforcement of unpleasant memories, which could be particularly useful in the treatment of PTSD.
Could capability such as this joint research study be manipulated to make a group of people vulnerable to attack or coercion, such as protesters or a military fighting force?
Toxicology of Graphene Oxide
A peer-reviewed journal entitled "Toxicity of graphene-family nanoparticles: a general review of the origins and mechanisms" published at BioMed Central, part of Spring Nature under the section Particle and Fibre Toxicology, describing in-depth the toxicology hazards of Graphene Oxide (GO): – Some quotes were abbreviated for clarity.
Blood-air barrier
The lungs are a potential entrance for graphene nano-particles into the human body through airway. The inhaled GO nanosheets can destroy the ultrastructure and biophysical properties of pulmonary surfactant (PS) film, which is the first line of host defense, and emerge their potential toxicity. Graphene can redistribute to the liver and spleen by passing through the air-blood barrier.

Blood-brain barrier
Graphene quantum dots can cross through the blood-brain barrier.

Blood-placenta barrier
The placental barrier is indispensable in maintaining pregnancy, as it mediates the exchange of nutrients and metabolic waste products, exerts vital metabolic functions and secretes hormones. A recent review suggested that the placenta does not provide a tight barrier against the transfer of nanoparticles, specifically against the distribution of carbonaceous nanoparticles to and in the foetus. Much attention had been paid to the developmental toxicity of nanomaterials, and reports showed that many nanoparticles did cross the placental barrier and strongly influenced the development of embryos. Studies of the exposure to graphene materials through the placenta barrier are deficient, and how these particles transfer to embryos should be evaluated in detail in the future.

These barriers were the most frequently mentioned barriers in the literature, and other barriers have not been evaluated in recent studies, such as skin barriers, which have not been mentioned in any of the hundreds of GFNs toxicity studies searched. Moreover, the mechanism by which GFNs pass through these barriers is not well understood, and more systematic investigations are urgently needed.
…
Toxicity in internal organs
GO can result in acute inflammation response and chronic injury by interfering with the normal physiological functions of important organs. A low dose of GO caused serious damage to the gastrointestinal tract after maternal mice drank a GO suspension rather than a high-dose of GO because a low dose of GO without agglomeration can easily attach to the gastrointestinal surface and cause destruction through its abundant sharp edges . GFNs caused inflammation and remained in the lung on day 90 after a single intratracheal instillation, and even translocated to lung lymph nodes by a nose-only inhalation. A high dose of GO that forms aggregations can block pulmonary blood vessels and result in dyspnea, and platelet thrombi were observed at high concentrations. GO reportedly disrupted the alveolarcapillary barrier, allowing inflammatory cells to infiltrate into the lungs and stimulate the release of proinflammatory cytokines [99]. Fibrosis and inflammation could be verified by the increased levels of the protein markers.

The developmental toxicity of GFNs may induce structural abnormalities, growth retardation, behavioral and functional abnormalities, and even death. A study on the reproductive and developmental toxicity of GFNs will be extremely significant and gain extensive attention in the future. Almost all the GFNs toxicity studies were short-period experiments, and no studies have investigated long-term chronic toxic injury. However, based on studies of other nanomaterials toxicity, long-term GFNs exposure may be an important factor harming health [107–109]. Therefore, the long-term study of GFNs is necessary.

Physical destruction
Graphene is a unique nanomaterial compared with other spherical or one-dimensional nanoparticles due to its two-dimensional structure. The physical interaction of graphene nanoparticles with cell membranes is one of the major causes of graphene cytotoxicity.

DNA damage
Due to its small size, high surface area and surface charge, GO may possess significant genotoxic properties and cause severe DNA damage, for example, chromosomal fragmentation, DNA strand breakages, point mutations, and oxidative DNA adducts and alterations. Even if GO cannot enter into the nucleus of a cell, it may still interact with DNA during mitosis when the nuclear membrane breaks down, which increases the opportunity for DNA aberrations. DNA damage can not only initiate cancer development but also possibly threaten the health of the next generation if the mutagenic potential of GO arises in reproductive cells, which impacts fertility and the health of offspring.

Inflammatory response
GFNs can cause a significant inflammatory response including inflammatory cell infiltration, pulmonary edema and granuloma formation at high doses.
…
Conclusions
In the past few years, GFNs have been widely utilized in a wide range of technological and biomedical fields. Currently, most experiments have focused on the toxicity of GFNs in the lungs and livers. Therefore, studies of brain injury or neurotoxicity deserve more attention in the future. Many experiments have shown that GFNs have toxic side effects in many biological applications, but the in-depth study of toxicity mechanisms is urgently needed.
Lipid Nanoparticles (LNP)
What are Lipid Nanoparticles (LNP)? An article from Chemical & Engineering News called "Without these lipid shells, there would be no mRNA vaccines for COVID-19" (PDF) answers this question very well, while explaining the significance of PEG (polyethylene glycol), and the lipids found in various Covid-19 vaccines.
LNPs used in the COVID-19 vaccines contain just four ingredients: ionizable lipids whose positive charges bind to the negatively charged backbone of mRNA, pegylated lipids that help stabilize the particle, and phospholipids and cholesterol molecules that contribute to the particle's structure. Thousands of these four components encapsulate mRNA, shield it from destructive enzymes, and shuttle it into cells, where the mRNA is unloaded and used to make proteins.
…
Pegylated lipids, in which polyethylene glycol (PEG) strands are attached to lipid heads, have several functions in a nanoparticle. PEG helps control the particle size during formulation, prevents the particles from aggregating in storage, and initially shields the particles from being detected by immune system proteins in the body, according to James Heyes, a former Protiva scientist.
…
Details on how Moderna arrived at its optimal formulation in the first place are scant. The company did not grant an interview to talk about its nanoparticle development, and neither did Pfizer or BioNTech. For its COVID-19 vaccine, Moderna ultimately used an ionizable lipid that it calls SM-102 [heptadecan-9-yl 8-((2-hydroxyethyl)(6-oxo-6-(undecyloxy)hexyl)amino)octanoate], which it first described in a 2018 study on alternatives to MC3. Pfizer and BioNTech licensed an ionizable lipid called ALC-0315 [((4-hydroxybutyl)azanediyl) bis(hexane-6,1-diyl)bis(2-hexyldecanoate)] from Acuitas.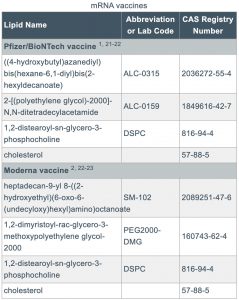 Specific details of the ingredients of the vaccines, for example the ones produced by Pfizer and Moderna, only go so far and do not clarify what the ingredients of SM-102 and ALC-0315 contain. A large amount of research in the areas of nanotechnology and vaccine delivery do involve the toxic compound of Graphene Oxide, but the specifics of these two lipids are missing.
The article "Understanding the nanotechnology in COVID-19 vaccines" (PDF) at CAS, a division of the American Chemical Society describes allergic reactions from lipid nanoparticles:
Despite their clear advantages for drug delivery, lipid nanoparticles have an unwanted side-effect; they have the potential to induce an allergic reaction, particularly for those who suffer with severe allergies. However, reactions are rare and researchers estimate a rate of 1.1 cases of anaphylaxis for every million first doses of the Pfizer/BioNTech COVID-19 vaccine.

The compositions of the lipid nanoparticles are very similar for the two vaccines (Pfizer/BioNTech and Moderna): an ionizable cationic lipid, a PEGylated lipid, cholesterol, and the phospholipid distearoylphosphatidylcholine (DSPC) as a helper lipid. Scientists believe these reactions are related to the PEG-lipid component of the vaccine as the risk of sensitization appears to be higher with formulations comprising higher-molecule-weight PEG such as PEG3350 – PEG5000. It should be noted that mRNA vaccines contain only MW PEG2000.
According to the Vaccine Adverse Event Reporting System (VAERS) the latest 2021 numbers for August 7, 2021 for allergic (anaphylactic) shock are 1,576 so far. However, according to a Harvard Medical School study, fewer than 1% of vaccines' adverse reactions are reported to VAERS. With this discrepancy the actual numbers could be closer to 157,600. It is also worth noting that at the time of this record for just the year of 2021, with "Death" recorded as a symptom of taking the vaccines, that amount was 2,585. With under reporting that number could be as high as 258,500 deaths.
The Vaccines
Moderna vaccine
As you can see from the Moderna chart, SM-102 is "heptadecan-9-yl 8-((2-hydroxyethyl)(6-oxo-6-(undecyloxy)hexyl)amino)octanoate". The Safety Data Sheet from Cayman Chemical of Michigan (PDF) refers to this chemical as toxic:
GHS06 Skull and crossbones

GHS08 Health hazard

Suspected of causing cancer.
Suspected of damaging fertility or the unborn child.
Causes damage to the central nervous system, the kidneys, the liver and the respiratory system through prolonged or repeated exposure.
The suspicious part of this MSDS sheet is that the toxic portion of SM-102 appears to be a chemical called "Chloroform" which is 90% of the compound SM-102. However, the other 10% of SM-102 is listed specifically as SM-102, without describing the contents any further of what SM-102 actually contents. So even though we are suppose to be able to rely on the safety information in MSDS sheets, this one appears to be incomplete. Moderna apparently considers that information "proprietary" and the public is not allowed to know. (screenshot) In addition, the public is not allowed to hold any drug company criminally or civilly liable for any side effects or allergic reactions or injuries up to and including death. What is exactly in SM-102?
Pfizer vaccine
As for the Pfizer vaccines, they state on their own March 19, 2021 MSDS sheets (PDF) in "Section 11: Toxicological Information" in the very first statement:
Toxicological properties have not been thoroughly investigated. The following information is available for the individual ingredients.

Known side effects: Based on clinical trials in humans, possible adverse effects following intravenous exposure to this compound may include: injection site pain, muscle pain, headache, fever, chills, tiredness, joint pain, abnormal redness of skin (erythema), and sleep disturbances. Serious allergic reactions, including anaphylaxis, have been reported.
Echelon Biosciences Inc., a research lab in Utah, also lists in their small print under the heading "Hazardous Properties and Cautions" (PDF) about ALC-0315 [((4-hydroxybutyl)azanediyl) bis(hexane-6,1-diyl)bis(2-hexyldecanoate)] in their Technical Data Sheet from July 23, 2021:
Hazardous Properties and Cautions: The toxicological and pharmacological properties of this compound are not fully known. For further information see the MSDS on request. This product is manufactured and shipped only in small quantities, intended for research and development in a laboratory utilizing prudent procedures for handling chemicals of unknown toxicity, under the supervision of persons technically qualified to evaluate potential risks and authorized to enforce appropriate health and safety measures. As with all research chemicals, precautions should be taken to avoid unnecessary exposures or risks.
For research use only. Not intended for diagnostic or therapeutic use.
Unanswered Questions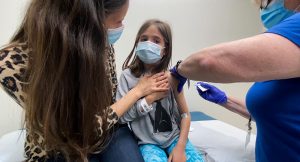 Since the vaccines are still under clinical trials, everyone who has taken it is in essence a live, in the wild, test subject. (PDF) This is not even a disputable fact. Since chemical companies and researchers can't even answer what the short term effects will be, (days, weeks, and months), they certainly can not determine what any of the long term effects will be, (years). It is also an indisputable fact that billions of dollars have been spent for a massive overwhelming of hospitals that never happened. Yes, there were a few hotspots, but nothing like feared. The two weeks to 'stop the spread' has turned into over a year now. If we did not 'stop the spread,' then what does victory look like? No overloaded hospitals? Herd immunity? 100% vaccination participation?
I think the important point to make here is that there are way too many unanswered questions in regards to the Covid-19 vaccines and their increasing coercion toward 100% vaccination leaves little room for opposing views, but plenty of room for forced population division if they deem necessary (PDF). The absence of appropriate testing of the mRNA technology and its short and long term effects should be a huge red flag . There is also the concealing of ingredients in the vaccines which could or mostly likely be toxic, if the vaccine delivery system used by Moderna & Pfizer are truly the same advanced methods used in the area of mRNA. I also think the congruent development of both brain-machine interface technology and the nanotechnological drug delivery systems do leave some cause for concern. It is not the benevolent development of technology which should concern us, but the malevolent use of this technology and its seemingly unmonitored production and application as we invite it into our bodies that should concern as all.
Don't we owe it to the next generation to get the answers now before the potential genetic and physiological damage is already done? We won't get a second chance.